Meet Some of Our Program Interns
Photograph of Ms. Latreece Perry, a student enrolled in the Concentration in Applied Sociology at the University of Tampa, at her internship site with the Hillsborough County Aging Services, in Tampa, Florida, in 2011.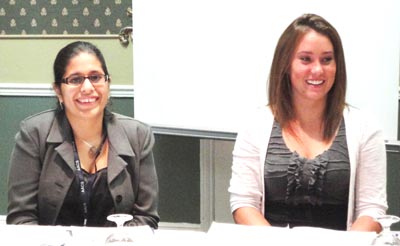 Photograph of University of Tampa Sociology Majors, Ms. Christine Fenandez (left), and Ms. Jillian Palmer (right), a student enrolled in the Concentration in Applied Sociology, presenting their evaluation research on preventative programs for children, sponsored by Champions for Children (formerly, the Child Abuse Council) of Tampa Bay, Florida, at the 2011 Annual Meeting of the Association for Applied and Clinical Sociology (AACS) in New Orleans, Louisiana.
---
The Commission welcomes new CAPACS Board Member, Dr. Amitra Wall (Buffalo State, SUNY)
Read the Commission's Statement Welcoming International Programs
Preview articles on accreditation and Commissioners' other contributions to the literature on the CAPACS "Resources" web page
See Slides, Photos, and a Press Release for Some CAPACS Programs
The Commission invites you to contact us about CAPACS accreditation for your Program in Applied, Clinical, or Public Sociology, or Sociological Practice.
Next Commission Meeting at the 110th ASA Annual Meeting in Chicago, IL, 6:30-10:30 pm; Saturday, August 22nd, 2015, in "Conference Room 4E," Fourth Floor, at the Hilton Chicago.